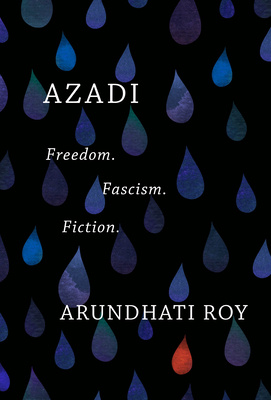 In one of this website's previous lives, I wrote a blog post singing the praises of the Indian novelist, essayist, and radical Arundhati Roy. Among other things, I wrote that "her nonfiction always reflects the committed engagement of a true activist and the good, old-fashioned, shoe-leather research of a journalist; she's the furthest thing in the world from an ivory tower dilettante, writing from on the ground and in meaningful solidarity with those on whose behalf she speaks." But there is an unparalleled eloquence and a critical hard-nosedness undergirding her idealism too — and, in my view, these are the qualities that really set her apart from other contemporary political essayists. As I also mentioned in that blog post, the Guardian's Tim Lewis has called attention to a specific phrase that the author uses to characterize her work: "urgent interventions." Once it was pointed out, I could see this descriptor everywhere. "For example, in her 2009 book Listening to Grasshoppers: Field Notes on Democracy, she explains that 'all [of its] essays were written as urgent, public interventions at critical moments in India… Often they were not just responses to events, they were responses to the responses.' Similarly, in an interview with the Irish Times last year, she says: 'When I'm writing non-fiction, it's a weapon, it's an argument. It has an immediate and urgent purpose. Every essay of mine is an intervention into something…'" (emphasis added in every instance). As if to definitively drive home these points, along comes what is perhaps Roy's most timely anthology of urgent interventions: Azadi: Freedom. Fascism. Fiction. Though these essays are largely concerned with waking readers up to the implications and horribly real effects of Hindu Nationalism in the age of Indian Prime Minister Narendra Modi, there is also much to extrapolate for those concerned with creeping authoritarianism elsewhere in the world. And she does seem to be speaking more generally at various spots throughout the book: for instance, "The Pandemic is a Portal," a brand new and broadly relevant essay about the COVID-19 crisis, is included here. (In the early days of the lockdown, Roy read an excerpt from the piece online and it enjoyed a viral moment across various social media platforms.) In addition, "The Language of Literature," the text of her 2019 PEN World Voices Arthur Miller Freedom to Write Lecture, holds much for those looking to make urgent interventions of their own, not to mention those who would like to read more of Roy's reflections on writing. As I wrote in that aforementioned blog post: "…the goal of her nonfiction writing is to interrupt the conventional wisdom that prevents us from attending to critical needs. Her purpose in writing these pieces is to put up The Good Fight, and at those decisive moments when it so crucially needs to be fought." This volume shows Roy putting up more than a few of those Good Fights and at a crucial juncture in our collective history; if you want to join her, I might suggest that you could start by reading Azadi.
–
This title, like all others featured in the "Readers' Advisory" section of this website, has been independently reviewed. However, if you buy a copy of the book using the link provided on this site, I may earn an affiliate commission from Bookshop.org, whose mission is to "financially support local, independent bookstores."

This review is licensed under a Creative Commons Attribution-NonCommercial-NoDerivatives 4.0 International License.