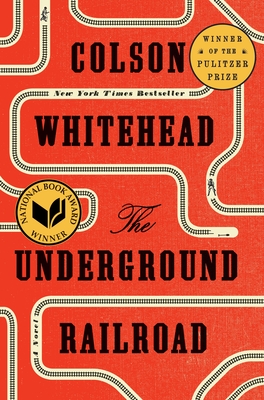 You probably don't need me to convince you to read Colson Whitehead's The Underground Railroad if you haven't already. On top of the rhapsodic reviews from across the board, its status as the first novel in quite some time to win both the Pulitzer Prize for Fiction and the National Book Award attests loudly and clearly to its greatness. (And, earlier this year, Whitehead won a second Pulitzer for The Nickel Boys, putting him in even more rarefied literary company.) Additionally, premises are rarely this compelling: it's the story of one slave's journey to freedom through the Underground Railroad, except that here the Underground Railroad is a literal underground railroad — with stations, conductors, steam engines, and everything. Abandoned by her mother Mabel, who is presumed to have escaped north through this amazing system, Cora is struggling to survive on a punishing Georgia plantation. When a compassionate act puts her on the bad side of the property's vicious soon-to-be owner, she decides to light out with fellow slave Caesar, who knows where the closest operating station is located. Hot on their heels is the notorious and terrifying slave catcher Ridgeway, who has famously only ever failed to capture one runaway: Mabel. While keeping its focus placed squarely on Cora, the book also makes occasional digressions into the personal histories of these aforementioned characters and others. And though Whitehead doesn't pull any punches when it comes to the violence and inhumanity inherent in this story, the "magical" part of the book's magical realism — its fantastical version of the Underground Railroad — is no less powerful. Part of the reason for this is because it's so much more than just an especially inspired creative flourish: among other things, the device allows Whitehead to cover a reasonably broad swath of U.S. geography in a way that a more grounded story might have had difficulty doing plausibly. The various detours, circuitous routes, and wrong turns of Cora's journey along the Underground Railroad bring her to various points in North and South Carolina, Tennessee, Indiana, and beyond. In each place, she encounters dynamic new iterations of white supremacy and the terrible persistence of racist violence. All of it suggests that the promised America, in which all persons are supposedly created equal, is really "a ghost in the darkness, like her." Crucially, though, putting things into stark perspective also gives readers a chance to see the actual Underground Railroad with fresh eyes. "Who are you after you finish something this magnificent — in constructing it you have also journeyed through it, to the other side," muses Cora very near the end of the book. She's talking about those who have used and participated in the novel's fictional system, but she might as well be talking about those who used and participated in the real one. "On one end there was who you were before you went underground, and on the other end a new person steps out into the light. The up-top world must be so ordinary compared to the miracle beneath, the miracle you made with your sweat and blood. The secret triumph you keep in your heart." Obviously, The Underground Railroad is highly recommended.

–
This title, like all others featured in the "Readers' Advisory" section of this website, has been independently reviewed. However, if you buy a copy of the book using the link provided on this site, I may earn an affiliate commission from Bookshop.org, whose mission is to "financially support local, independent bookstores."

This review is licensed under a Creative Commons Attribution-NonCommercial-NoDerivatives 4.0 International License.