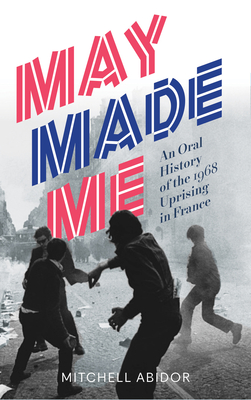 I've written a review of Mitchell Abidor's 2018 book May Made Me: An Oral History of the 1968 Uprising in France (AK Press) for H-Net: Humanities and Social Sciences Online's H-Socialisms network. Here's the opening bit:
For a long time now, oral history and the left have enjoyed a fruitful mutual influence. In particular, oral history has been shown to be uniquely effective in terms of conveying certain aspects of leftists' lived experiences — something we are all being reminded of as Vivian Gornick's newly back-in-print The Romance of American Communism (1977) inspires a fresh round of reappraisals in mainstream publications. But this interinfluence can be seen elsewhere as well. Blacklisted author, broadcaster, and actor Studs Terkel, for instance, became one of the key popularizers of both oral history and "history from below" by bringing the voices of everyday people to a wide range of relevant subjects, including labor (Working: People Talk about What They Do All Day and How They Feel about What They Do [1974]), war (Pulitzer Prize-winning "The Good War": An Oral History of World War II [1984]), and racial inequality (Race: What Blacks and Whites Think and Feel about the American Obsession [1992]). Meanwhile, in academia, some preeminent figures came into the field of oral history with serious left commitments, producing landmark scholarship about significant campaigns and struggles. Paul Buhle, for example, was an undergraduate member of the University of Illinois chapter of Students for a Democratic Society before going on, among other things, to found the Oral History of the American Left archive at New York University's Tamiment Library and to co-author (with Patrick McGilligan) the oral history Tender Comrades: A Backstory of the Hollywood Blacklist (1997). And Alessandro Portelli, whose oral histories of worker movements in his home country (Biography of an Industrial Town: Terni, Italy, 1831–2014 [2017]) and the United States (They Say in Harlan County: An Oral History [2010]) have been enormously influential, credits "the effects of 1968" with his decision to pursue oral history.

The epochal global period that was 1968 has of course received attention from others working at these points of confluence. To commemorate its twentieth anniversary, avowed socialist and oral historian Ronald Fraser — who is perhaps best known for Blood of Spain: An Oral History of the Spanish Civil War (1979) — even undertook an ambitious "international oral history" with 1968: A Student Generation in Revolt (1988). Similarly, editors Robert Gildea, James Mark, and Anette Warring draw on "the rich oral histories of nearly 500 former activists collected by an international team of historians across fourteen countries" in their Europe's 1968: Voices of Revolt (2013). Other projects, though, have taken comparatively particularist approaches. One of the central methodological essays in Portelli's The Battle of Valle Giulia: Oral History and the Art of Dialogue (1997), for example, reflects on interviews with participants in the titular skirmish between Italian students and the police that took place in March 1968. And, as its title also clearly indicates, Margaretta Jolly's recent Sisterhood and After: An Oral History of the UK Women's Liberation Movement, 1968-Present (2019) considers the development of second-wave feminism in the United Kingdom very much in light of the events of 1968.

Mitchell Abidor's May Made Me: An Oral History of the 1968 Uprising in France is a welcome new contribution to this latter kind of work…
You can read the full text of my review right here.