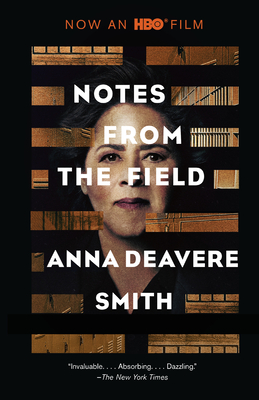 I started blogging about oral history as a mode within the documentary arts not just to "teach" about this kind of work, but also to educate myself; though I'm already actively working in this mode, there's still a lot that I don't know and want to learn. While it may not seem like that vast an area, there are definitely certain aspects I'm somewhat less well-versed in than others. Case in point: verbatim theatre.
I have long been interested in what Drama Online defines as the "form of documentary theatre which is based on the spoken words of real people," but, until recently, didn't really know much about it beyond the small handful of plays I've seen over the years. And I only knew about those because I have so many family members and friends who do or have worked professionally in the theatre. For example, an actor friend was featured in a production of Robin Soans's Talking to Terrorists, and that was how I found out about that particular title. Similarly, I was introduced to Eve Ensler's The Vagina Monologues through a staged reading of the play that quite a large contingent of friends at Denison University participated in. And I first encountered Moisés Kaufman and members of the Tectonic Theater Project's The Laramie Project by way of a production at nearby Kenyon College that included my sister Anna among the cast. (Later, during my time at Naropa University, I also got to meet Moisés and several members of the Tectonic Theater Project when they came to workshop verbatim pieces produced by friends in the M.F.A. Contemporary Performance program.)
So I knew that as part of my self-directed studies here, I wanted to look much more closely at both verbatim plays and theoretical/practical materials about the art of verbatim theatre. A natural place to start seemed to be one of the most obvious "holes" in my knowledge: the work of National Humanities Medal recipient Anna Deavere Smith. I've been aware of Smith's pioneering plays for years, but had only ever seen bits and pieces of them; for quite a while now her output has been on the list of things I promised myself that I would get to some day, and it jumped to the front of the queue when I started blogging again. Because her most recent play, Notes from the Field (2019), was just published (by Anchor Books) and televised (on HBO), I decided to start there.
Within the constellation of creative efforts that we categorize as verbatim theatre, it's fair to say that Smith's star shines both brightly and distinctively. While many of the (sub)genre's hallmarks are present in her work — her building blocks are the transcripts of the interviews she conducts with various individuals, for example — it is unique in at least one significant regard: hers are one-woman shows, in which she herself performs all of the voices that make up each play. (The other verbatim plays mentioned above have full — and sometimes, depending on the production, sizeable — casts.) The quality of this performance work is very well described by Decider's Jade Budowski in her review of Notes from the Field:
Smith is almost eerily natural in every role she plays; each person is performed with a lived-in quality, a true embodiment of the individual. Her voice booms and goes down to a whisper, her demeanor shifts from upright and confident to bitter and resentful, her face morphs and molds to whoever's turn it is to make themselves known. We aren't watching Anna Deavere Smith. We are sitting down with the individuals affected by these terrible systems. No one is ever presented as a caricature – we need to see these people. And that's exactly what Smith allows us to do.
While she is not the only solo performance artist in the documentary theatre space, Smith has unquestionably been a singularly effective and important innovator.
Not only that, her work has had an appreciably large impact on theatre broadly. The various honors her plays have received certainly attest to that. For instance, Fires in the Mirror: Crown Heights, Brooklyn and Other Identities (1992), based on interviews about the 1991 Crown Heights riot, and Twilight: Los Angeles, 1992 (1993), based on interviews about the 1992 Los Angeles riots, received back-to-back Drama Desk Awards for Outstanding One-Person Show. In addition, the former was a finalist for the 1993 Pulitzer Prize for Drama, and the latter nominated for the 1994 Tony Award for Best Play. Both were filmed and televised on PBS as well.
"Notes from the Field is the most recent installment in what I consider my life's work: a series of plays I call On the Road: A Search for American Character," Smith writes in the introduction to the play's text (pg. xv). This series includes Fires in the Mirror: Crown Heights, Brooklyn and Other Identities and Twilight: Los Angeles, 1992, as well as her other well-known works in this vein that cover a wide range of topics. She further explains that Notes from the Field puts its special focus on "the school-to-prison pipeline" — or, what the American Civil Liberties Union defines as "a disturbing national trend wherein children are funneled out of public schools and into the juvenile and criminal justice systems." The organization continues:
Many of these children have learning disabilities or histories of poverty, abuse, or neglect, and would benefit from additional educational and counseling services. Instead, they are isolated, punished, and pushed out.

"Zero-tolerance" policies criminalize minor infractions of school rules, while cops in schools lead to students being criminalized for behavior that should be handled inside the school. Students of color are especially vulnerable to push-out trends and the discriminatory application of discipline.
In view of this trend, and some other very troubling and relevant data, Smith argues that "this is a time for people to cease being spectators and to instead be moved to get out there and do something to effect change" (pg. xix). She goes on (pg. xix-xx):
It is time to ask ourselves, "Who are we? What do we believe in? What kind of country do we want to be?"

I believe that art can inspire action. It can motivate us to reimagine a world where schools are more than sorting mechanisms for the haves and the have-nots, where they can function as centers for a culture of learning in which teachers, staff, administrators, parents, and students from all communities are respected and nurtured intellectually, physically, and creatively.

But that is a type of reimagining that needs to include all kinds of voices, especially those that have been historically discounted. It is a reimagining that requires courage, empathy, and action. And it has to start with listening.
Though the content of Notes from the Field is definitely very powerful all by itself — as usual, Smith has gathered together an elegantly varied and remarkably informative collection of voices — the play's particular form manages to convey its voices in such a way that their potency gets a considerable boost. Expanding on the idea that her process starts with "active listening," Smith explains (pg. xv):
My goal is to pay careful attention to the people I interview and then to reflect back what I have heard in the hope of sparking a conversation, of making change possible. I aim not to merely imitate but to study people closely enough so that I can embody them on the stage, using my own voice and body. When I was a girl, my grandfather told me, "If you say a word often enough, it becomes you." People speak of putting themselves into other people's shoes. My way of doing that is to put myself into other people's words.
Smith's aim in doing all of this is to give these voices a more lasting impact than they might have if they were presented to audiences in other ways. For some, though, Smith's approach might seem like the kind of thing that would be doomed from the start. Newsday's Verne Gay speaks to exactly this point in his review of Notes from the Field, writing:
The idea of a one-woman show, or one-man show or one-anything show is tough to get your head around because of the finescapable fact of that oneness. TV viewers have long grown accustomed to the many. We're used to seeing lots of people say lots of things because that's what we're used to in real life. Also, by cutting out the role of the imagination — ours — TV does our work for us.
What's more, as Budowski adds: "Due to the inherent difficulty of successfully creating a one-woman show, it would undeniably be quite easy for Notes from the Field to venture into hokey territory…" And yet, as she ultimately concludes, "there's never a moment here that doesn't work."
Part of the reason for this, of course, is the fallacy of presumption that a one-person show is inherently some kind of non-starter or hard sell. Gay is quite right to note that
…Broadway figured out the magic of "one" long ago, or at least Hal Holbrook, Spalding Gray and [Smith] did. Largely nourished by the primal elements of story and music, the one-person show can have a power and beauty all its own. As spectator, the novelty soon wears off and the trance begins. You are in somebody's spell and have no idea why.
Those last couple of sentences provide quite an apt description of what happens when you experience one of Smith's plays; there is indeed a wonderfully mysteriously alchemy at work in her performances, and it's not the easiest thing to explain. Using the language of "spells" and "trances" feels right on to me. It may be a cliché, but it's also true: you kind of have to see one of her plays (even on television) to appreciate the full, hypnotic effect.
Consider the monologue derived from Smith's interview with Taos Proctor, a man described simply as "Yurok fisherman/former inmate" (pg. 41). It was at the end of this monologue that I noticed the "trance" had begun for me: Smith represents this narrator very simply — wearing waders and speaking in an idiosyncratic timbre and cadence — but the effect is so powerful that the distinction between Smith as the interpreter and Proctor as the primary source blurs to the point of almost dropping away completely. Between her selections from the transcript and subtle use of artifice, I essentially forgot I was watching a performance — I was completely drawn into the monologue. In cases like this one, it really feels as though her narrators are being conjured rather than performed.
In other instances, when Smith portrays well-known public figures, she wisely tends to zero in on the essence of their character, rather than their most recognizable characteristics. Her closing incarnation of U.S. Representative John Lewis (D-GA), for example, has much more in common with, say, Anthony Hopkins's discursive rendering of Richard Nixon in Nixon (1995) than Daniel Day-Lewis's uncanny channeling of Abraham Lincoln in Lincoln (2012): Smith doesn't look or sound much like Lewis, so she instead goes for and absolutely nails his immense sense of perspective and the way he speaks truth to power from a place of deep experience.
As I begin my exploration vebatim theatre, I'm thankful to have started with Anna Deavere Smith, whose work has done so incredibly much to underscore the medium's tremendous capacities for bringing memories, stories, and oral testimony to life. Her plays, including and especially Notes from the Field, set a intimidatingly high bar for work in this area, yes, but I think that those of who want to create things that "spark conversation" and even "make changes" would do well to try to follow her assiduous and inventive example. We may not reach their heights, but why not aim for that? And as Smith reminds us again and again, making verbatim theatre starts with a simple act indeed, and one that those of us making documentary art in the oral historical mode are already working on: "listening."